Update from the Strathmore Lacrosse Board of Directors
---
---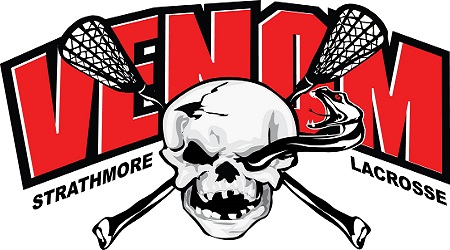 ---
Hello Lacrosse Families,
I wanted to take a minute to go over last season and the Board of Director's goals for the upcoming season. There is a lot of information and we'll split it up as events approach to ensure everyone is aware of what is happing.
Last year was a pivotal year for the Strathmore Venom Lacrosse club. We welcomed Chestermere into our club with the border change made by the Calgary District Lacrosse Association (CDLA), and had a record number of players in our Peewee teams.
We were competitive in every level. Some teams made the playoffs while others just missed the cut. It was overall a great season.
A Teams
We were able to introduce an A Team in Peewee because of the large number of Peewee players. They were competitive throughout the season and the majority of their games were close ones with only a couple goals difference at the end of the game. Developing an A team is a process, and is not something that can be on one year and off the next. Our players will only grow if given the opportunity to grow by playing at levels that push them to play their best. So taking the feedback into consideration from the survey sent out at the end of the season, we are going to continue and look at expanding our A levels in more than just Peewee with some additional focus on how we work with those teams with coaching and support. We will have registrations opened soon for those interested in trying out for A teams.
Coaching/Development
We brought in Jason Crook as our Technical Director last season to focus on our coaches and ensure that from Mini-Tyke all the way to our Junior teams, common strategies are being introduced so that when a player moves from Novice to Peewee for example, they are not learning the basics over again and the players are familiar with how the game is played. After 1 year of his expertise we have already started to see consistencies across all levels and are moving forward in a positive direction. Jason in conjunction with the board is gearing his focus for this season and will continue to take us to the next level. Please remember his focus is ensuring our coaches are being as effective as possible and delivering a common set of strategies that can be used from level to level. Our coaches are volunteers, Mom's and Dad's from the club who just want to help out. The least we can do at the board level is to ensure we are providing as much support as possible to get them the skills they need to be successful and help us have more successful teams.
Redneck Rumble
The Redneck Rumble was very successful last year, a committee was formed early on and were able to organize a great event for us. We had more sponsors last year than we have had in sometime, and many have already stepped up indicating they are looking forward to sponsor us again this year. Anticipating the new Strathmore Motor Products Sports Centre in Strathmore, we have sent our intent to expand our Redneck Rumble tournament this year. With an extra floor to play on we are looking to include Novice and Peewee C teams for the first time in the Rumble's history to allow even more of our players to participate in our home tournament.
Discipline
Last season we had a number of discipline issues, this was very unfortunate, and in some cases caused a negative perception of all Strathmore Venom teams. The board has been reviewing these issues at ALL levels and we are going to be certain that these issues are handled quickly this season. We cannot be successful if players or coaches are focused on being negative and disrupting games. From the board to coaches, players and parents in the stands, we will be implementing and enforcing the a new Code of Conduct for everyone on the floor, the bench or in the stands. Anyone being abusive, fighting, or disrespectful bringing a negative image to the sport and our club will be remove from the game, practice or club if necessary. The example will be set from the top as our focus is on Long Term Athletic Development! This game is about the players and ensuring they have a safe, fun AND Competitive season.
THE 2019 SEASON!!
Evaluations have been scheduled. We will have to utilize the Calgary Soccer Centre this year again in order to have our teams in place as quickly as possible.
Novice Evaluations:
Session 1: Monday March 18, 2019 from 6:15 PM - 7:15 PM
Session 2: Wednesday March 20, 2019 from 6:15 PM - 7:15 PM
Peewee Evaluations:
Session 1: Monday March 18, 2019 from 7:15 PM - 8:15 PM
Session 2: Wednesday March 20, 2019 from 7:15 PM - 8:15 PM
Bantam Evaluations:
Session1 Monday March 18, 2019 from 8:15 PM - 9:15 PM
Session2 Tuesday March 19, 2019 from 6:15 PM - 7:15 PM
Midget Evaluations
Session 1 Tuesday March 19, 2019 from 7:15 PM - 8:15 PM
Session 2 Wednesday March 20, 2019 from 8:15 PM - 9:15 PM
Mini Tyke and Tyke's will have floor time on Sunday morning March 24th and 31st to split into teams, More details to come on these dates.
Registrations
A late registration fee will be applied to all registrations as of March 1st, 2019. So please take some time to register ASAP.
You can pay the entire amount immediately, or setup on a payment schedule. It is important we have our registration numbers early so we can determine the number of teams for the upcoming season and the CDLA can start booking additional floor times.
THANK YOU for your time and I can't wait to see everyone this season!!!!
Jon Peters
President
Strathmore Lacrosse Club
president@strathmorelacrosse.com